Today marked the re-launching of the Bobson Apparel website after a long period of being off-line.
Bobson Apparel is a clothing brand that wants to provides STYLISH, COMFORTABLE and QUALITY products that fits the LIFESTYLE of today's generation. Established under managment of Crolific Garments Manufacturing Corporation, with the leadership of Mr. Victor Tan, it is one of the Philippines most promising lifestyle brands with 28 boutiques to date.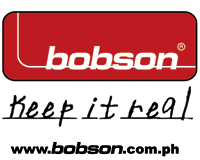 Jerico "Salleh" Vilog of Hangad I.T. Solutions accepted the project to bring the site up. He lead the development of the site.
Miguel Biag, headed the artistic design of the site.  He's a web designer on Hangad's roster and a long time partner of Jerico in developing sites.
Salleh used the WordPress platform as a base and also used other open source plugins to build the site as it is seen now. This enabled the dynamic duo to significantly build the site in a short period of time and the site is remarkably affordable. This kind of development is what Hangad I.T. Solutions offers to its clients. Speed and quality.
Previous sites made by Jerico and Miguel under Hangad IT Solutions are Bookworm Philippines, School Talk and Randell Tiongson.